Gong Practitioner Training
Two-day course with Tina Maria Stahl in Wageningen, The Netherlands Subscribe
15 &16 April 2022 10:00-17:0
Gong Practitioner training – no previous Gong playing experience is necessary, all are welcome.
Introduction to Gongplaying & Gongbath

Basic Gong Playing Techniques with different types of Gongs, Mallets and Flumies
Essential Skills in Organizing and Offering a 45 minutes Gongbath
Introduction to Unique Universal Gong Yoga Exercises
Scheduled time for Personal Study and Contemplation
Learning about Group Dynamics in Gong play
The Universal Greeting
What to expect from the training?
The Gong Training is led by Certified Gong Teacher Tina Maria Stahl, who has many years' experience
Your Opportunity to Practice on a selection of the Highest Quality Gongs
Thorough Presentation of a series of basic Gong Playing Techniques
Introduction to Universal Gong Yoga as taught by Don Conreaux
Folder about the Gong Techniques practiced during this training
Knowledge and Skills on Conduction a 45 minutes Gongbath
Connection with the Global Gong Directory of the Akashic Blue Book of Word Service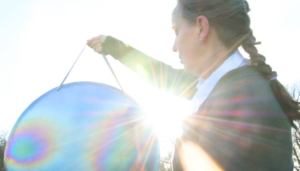 Tina Maria Stahl is a certified Gong Teacher Trainer, she studied with Don Conreaux and Mehtab Benton. She is the founder of Gong-Academy.com and Kundalini Yoga Denmark.
She is passionately conducting trainings and courses in how to play the gong, gongbath and Puja ceremonies, as well as well as organizing international retreats and trainings.
Tina Maria met Yogi Bhajan, Master of Kundalini Yoga at a young age, at the summer Kundalini Yoga camp in Loches, France in 1980. On her 21st birthday Yogi Bhajan gave a Rebirthing Workshop, in her home town Copenhagen, and that was the beginning of a lifetime dedication to live, teach and share the teachings.  It brought her to The Netherlands where she lived for 10 years and where her two daughters are born. Yogi Ji introduced her to Sat Nam Rasayan and the Gong in the early 1990'ies. She studied healing with Master of Sat Nam Rasayan healing Guru Dev Singh since 1994 and holds a SNR L2 degree.
In 2018 Tina Maria traveled with Grand Gong Master Don Conreaux, Gong muse Surana through Slovenia, Bosnia and Croatia with 30 Gong Players from all over the world for the Gong Caravan of Peace. The Gong Caravan of Peace is organizing free concerts throughout the Balkan region, offering Sacred Healing sound of the Gong to areas that has been devastated by the pain and horrors of war.
Read more: http://gong-academy.com/